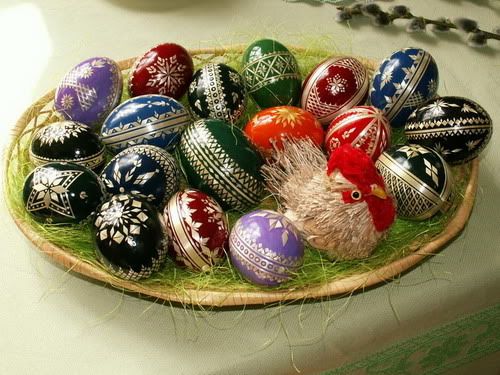 Easter in Slovakia
Easter is the most significant Christian holiday. Because it is a moveable holiday, its date changes every year. Christians begin Easter celebration on Holy Thursday. Good Friday is a state holiday in Slovakia. While many people usually do not go to work, but stores and supermarkets are usually open.
On Good Friday, the day of abstinence, Christians commemorate the death of Jesus Christ. Then on Easter Sunday then celebrate the resurrection of the Lord Jesus Christ; however, not only Christians celebrate Easter
"Oblievacka" (water pouring) is a typical Easter Monday custom in Slovakia. The character of oblievacka slightly varies from region to region. On this day men visit their female relatives and friends and pour water on them or spray them with perfume, and whip them gently with special whips made of braided willow rods. According to tradition, pouring water on women will guarantee their beauty and good health throughout the year.
Recently oblievacka and sibacka (whipping) have not been as intense as they used to be in the past decades. In many regions, water buckets have been replaced with perfumes, a small syringe filled with water, a water cup, or a water pistol.
However, in some villages you may still see young men, sometimes riding on the horses or dressed in traditional folk costumes, who come with rattles and braided whips decorated with colorful ribbons. They may take females out of the houses and douse them with a bucket or buckets filled with cold water.
During this tradition men may sing songs and play the accordion.
After oblievacka and sibacka, women reward men with sweets, fruit, money, or painted Easter eggs. Easter eggs or kraslice are quite popular in Slovak tradition. Kraslice are painted, dyed, or otherwise decorated blown eggs. Many decorate kraslice at home or buy them at market or at the craft store. While it is not required to give Easter eggs to visiting males on Easter Monday, only a few men will leave the house without a drink or small refreshment.
Hi Viera, your "oblievacka and sibacka" must be a very funny tradition.
I'm looking forward to our Easter egg-hunt which is a traditional searching of the 4,000 plastic eggs in the pedestrian zone.
It take place always on Easter Sunday
Have a nice time.
Jesus Christ took my place on the cross
so that I may havea place in heaven.

I wish you and your loved ones from the bottom of my heart (am serious), A Happy Easter to you dear Viera of Bratislava.

Don't forget that The story of Easter is the story of God's wonderful window of divine surprise.

I take Holy communion Saturday morning, there are not too many people.
And Sunday we have a Christmas dinner "LAMB"

Vous etes bienvenu,

Love always,
Vartkes
Dobrý deň, Viera,
Veľmi pekné a zaujímavé tradície. V Macedónsku sú vajcia maľované na štvrtok.
Je potrebné pred východom slnka. Vajcia nemala jesť pred nedeľu.
Myslíte si, maľované vajíčka :-)
-blago
Oh, Such a warm and sweet tradition.
The photos help support the story well.
Thank you (as always) for the wonderful and fully informative story.